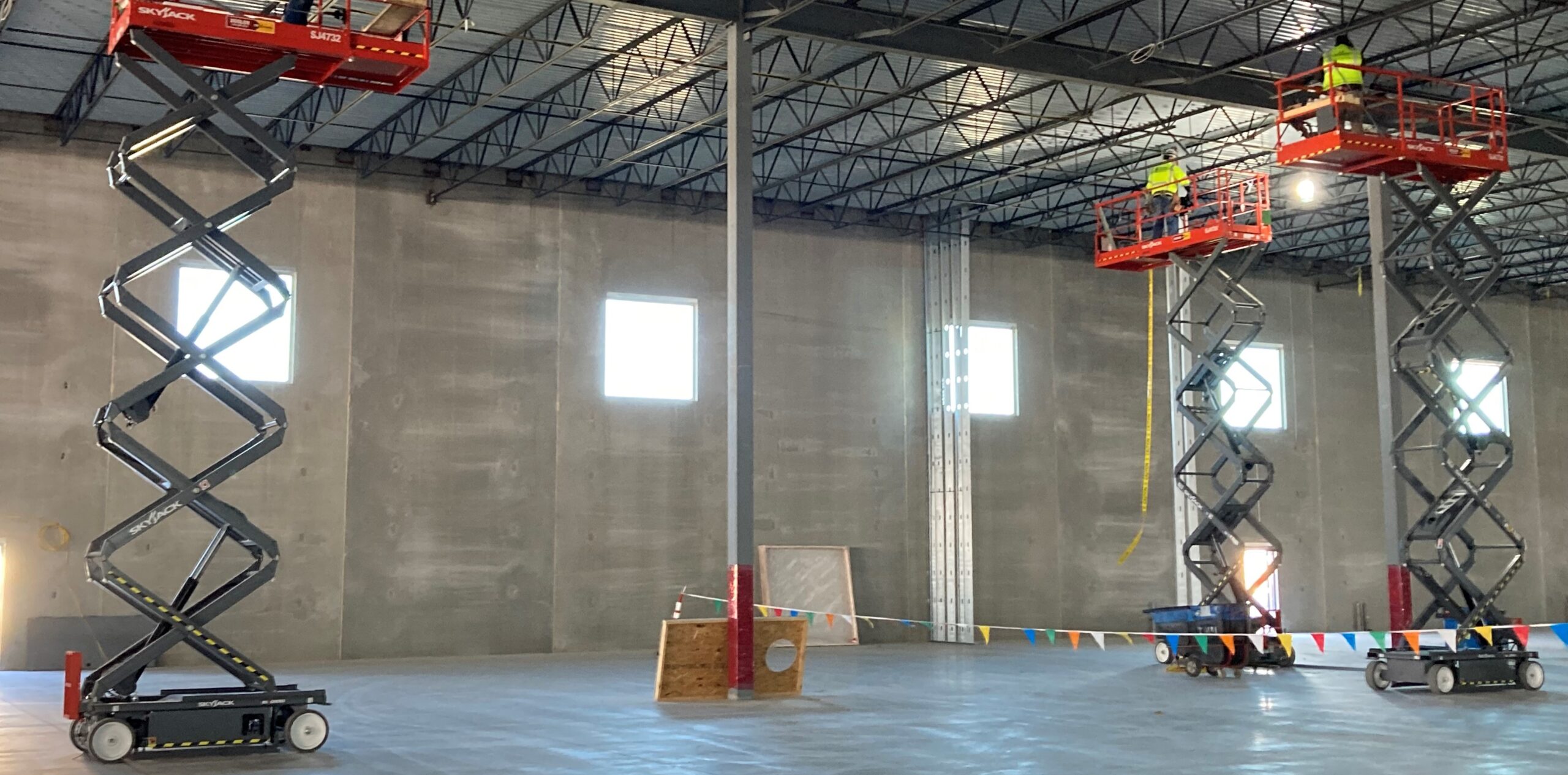 Aerial
The Ziegler CAT Rental Store is proud to be a leading rental provider of aerial equipment in Minnesota & Iowa.
Our aerial equipment line-up includes boom lifts, scissor lifts, vertical mast lifts, and rough terrain scissor lifts, each with their own unique features and capabilities.
Boom lifts are perfect for outdoor construction or maintenance projects, with heights ranging from 30 to 135 feet. They offer a working range in all directions, and many models have the ability to rotate 360 degrees for maximum productivity on job sites. This makes them an excellent choice for workers who need to reach high places quickly and safely.
Scissor lifts are equally versatile, and are often used for indoor projects or on flat surfaces. They offer a stable platform that can safely lift workers and equipment to heights of up to 40 feet. All of our scissor models are electric, making them quiet and environmentally friendly.
Vertical mast lifts, on the other hand, are perfect for indoor applications where space is limited. With heights ranging from 12 to 25 feet, they offer a compact yet powerful solution to accessing hard-to-reach areas.
Finally, our rough terrain scissor lifts are designed for outdoor use on uneven terrain. With a working height of up to 64 feet, they offer increased maneuverability and stability, making them ideal for rugged construction sites or outdoor events.
No matter your needs, the Ziegler CAT Rental Store has the aerial equipment to help you get the job done safely and efficiently. Our experienced team can help you choose the right equipment for your project, and ensure that it's properly maintained for smooth operation. Contact us today to learn more!
Looking to rent a lift? Reach new heights with top aerial brands.
Ziegler Rental in Minnesota and Iowa has aerial lifts for rent, including boom rentals, scissor lifts, materials lifts, and more. Ziegler Rental carries only the best lift rentals from top brands.
JLG
As the world's leading designer and manufacturer of access equipment, JLG products can be found all over the world, providing powerful and versatile aerial equipment, enabling performance, boosting productivity, ensuring uptime, and supporting forward progress.
Aerial Rental Equipment Available
Articulated boom lifts
Electric articulated lifts
Rough terrain scissors
Vertical mast lifts
Telescopic boom lifts
Towable boom lifts
Ultra high booms
TEUPEN
For more than 40 years, TEUPEN has proven to be the world's leading manufacturer of compact track lifts. Creative thinking combined with high standards of German craftsmanship have allowed a history of ground-breaking technical innovations for safety and comfort.
Aerial Rental Equipment Available
Genie
Genie products are used in a wide range of industries around the world and deliver durable equipment, expert support, and dependable parts.
Aerial Rental Equipment Available
Material lifts
Push arounds
Vertical mast lifts
Telescopic boom lifts
Electric scissor lifts
Skyjack
Quality and reliability are the hallmarks that have given Skyjack a solid reputation as the best. One in three scissor lifts sold worldwide is a Skyjack.
Aerial Rental Equipment Available
Rough terrain scissors
Vertical mast lifts
Electric scissor lifts
Hy-Brid
Manufactured and assembled in the United States, Hy-Brid provides innovative solutions to the problems faced by the access industry. Hy-Brid aerial equipment is continually being modified based on real customer feedback to maximize uptime and productivity on jobsites.
Aerial Rental Equipment Available
Key Benefits
By renting a lift or other aerial equipment, you can boost the productivity of your jobsite by accessing hard-to-reach areas easily, comfortably, and safely.
Enhance Safety
Features like platform grip strips, high guardrails, beacons, sensors, and bright lights ensure that workers are safe and stable, even at the highest heights and in low-light environments.
Maximize Uptime
Aerial work equipment increases efficiency and cost savings on your jobsite to maximize uptime. With reduced worker fatigue, enhanced mobility, and increased capacity you can go higher, work quicker, and get more done.
Fit for Any Jobsite
Hard-to-reach areas aren't only indoors. Features like cold weather start kits, hydraulic operations for rough terrain, and reinforced tires make aerial equipment like rough terrain scissor lifts or towable boom lifts suitable for even the toughest outdoor jobsites.